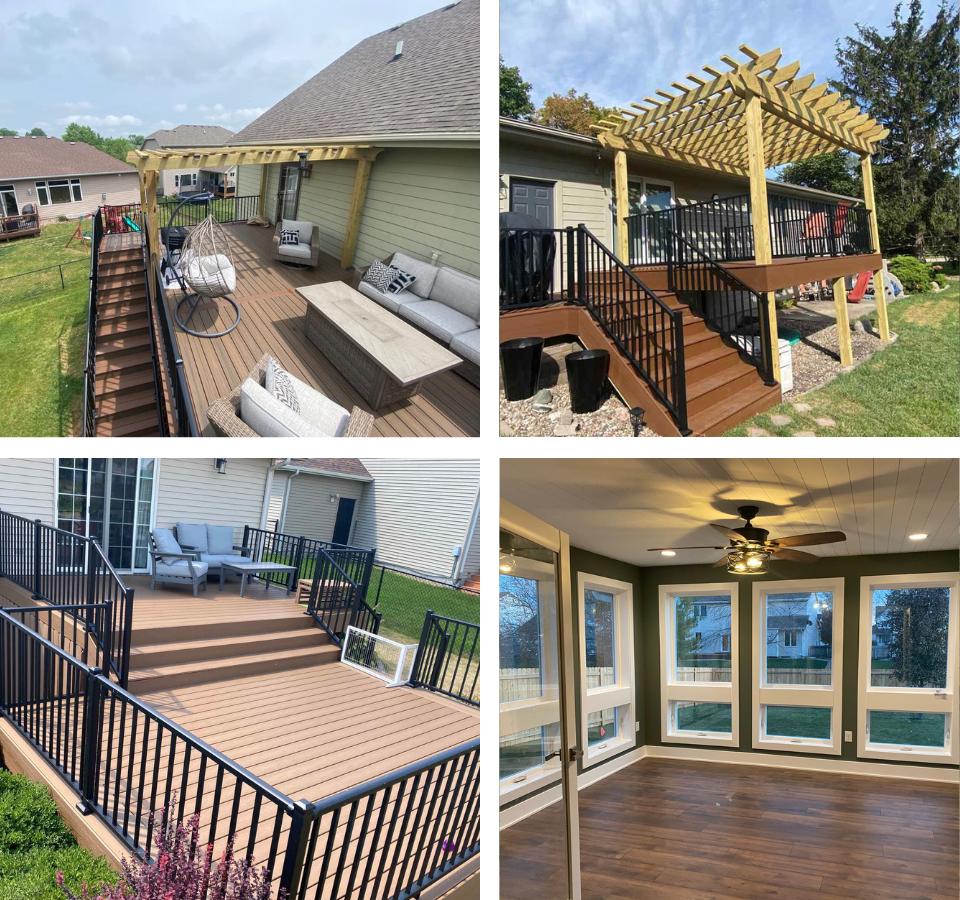 Serving Your Neighborhoods
with Excellence
Welcome to Ankeny Deck Specialist – Your Premier Deck Installation and Repair Experts
At Ankeny Deck Specialist, we take immense pride in our craftsmanship, and our commitment to quality extends far and wide. We're not just experts in deck installations, repairs, and maintenance; we're also dedicated to serving numerous communities across the Greater Des Moines area.
Our service areas
include




Hear from Our Satisfied
Customers
Schedule an appointment to speak with our helpful deck specialists so you can finally enjoy your backyard! Send us a message online or contact Ankeny Deck Specialist at 515-553-9803
Highly recommend Ankeny deck specials. Extremely timely, proficient, knowledgeable, and excellent work. Fantastic to work with and truly appreciate the effort and experience their team provided.
Kimberly Murphy
2023-11-02
The deck turned out great. Very customer friendly process. A great professional company who is good at what they do. Very organized from quote, to explanation of work, options, and final clean up.
Ankeny deck folks not only did a great job as per the design but we're able to accommodate minor changes with no fuss. They price was very reasonable and competitive. I fully appreciate the work they did.
They did a great job. It only took them 3 days to replace my deck. They are really professional and nice to work with. Highly recommended!
Everyone we worked with were responsive, professional and knowledgeable! You would think that the 3 season deck was part of the original construction! The room turned out better than we could have imagined - it's just beautiful!
Ankeny Deck Specialist crew did great job on our deck. We love it. Thank you for entire team!
Williams Portillo
2023-10-06
Ankeny Deck Specialist exceeded my expectations with their covered deck installation! The quality of workmanship and the attention to design details made my outdoor space a true haven. I'm thrilled with the result and would wholeheartedly recommend them for any decking project.
Ankeny Deck Specialist turned our vision into reality. They were professional and had good communication with a 5-star deck that's now the envy of our neighborhood! I would highly recommend
Ankeny Deck Specialist deserves a solid 5-star rating! Their craftsmanship and attention to detail transformed our outdoor space beautifully."
Start Your Journey with
Ankeny Deck Specialist
Ankeny Deck Specialists offer composite decks that are both stylish and long-lasting, providing an affordable upgrade. Our decks are designed to combat mold and rot effectively, incorporate heat-blocking technology for a comfortable experience, and feature a vibrant color selection. With an eco-conscious design and impressive scratch resistance, our decks are created to impress, complete with hidden fasteners for a sleek, modern finish.

Let's Talk
We would love to hear from you about your
upcoming project.

Design And Plan
After the meeting our team will start working on
the initial design.

Approval
Once the proposal is approved we will chat, call,
or meet.

Permit
Upon signing the agreement, We will start with
our first step.

Work Done
Relax in your newly transformed outdoor retreat,
with no need to stain your deck ever again.